Opening Glass Block French Doors
Glass Block French Doors and Swinging Doors are a innovation of BlokUp, The graceful styling and high-tech engineering of a Swinging single or dual Aluminium framed Door, complete with Door frame and jamb, or a Sliding Glass Block Door. Maybe you are looking for the Fixed look of a solid Glass Block Window Panel and a Swinging Door with frame.
A world first the BlokUp opening glass door uses a true 50mm hollow Glass Brick. combining privacy with brilliant natural light, superior thermal qualities and security, the range of Glass Block Doors enables you to add a stunning and elegant feature to almost any situation.
As one of the most versatile, functional and beautiful building materials, Glass Blocks offer similar acoustic and thermal benefits traditionally achieved with double glazing. This makes them perfect for both commercial and domestic applications.
Endless possibilities are available with our range of Glass Block Doors. Entry Doors, Single Leaf Style Doors, Sliding Doors and even French Doors- create a stunning, light filled entryway guaranteed to leave a memorable impression.
French Doors, Swinging Doors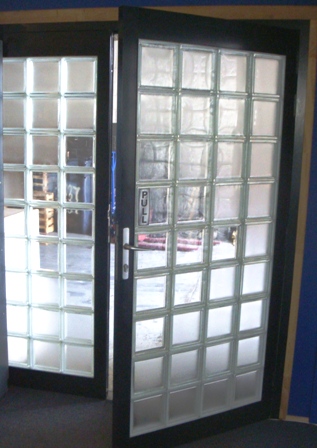 With the moderm open plan lifestyle, you can create a modern atmosphere in any room with a sliding Glass Block door. The Sliding Glass Block Door is your single solution for style, sohistication and peace of mind; from bedrooms to lounge and family rooms, bathrooms and even that cramped up laundry. Gently glide it open to bring the natural outdoors in, or leave it closed to maintain your privacy without the need for heavy curtians or blinds. ENJOY AN IMPRESSIVE WALL OF NATURAL LIGHT!
There are so many possiblities when using the Glass Block French door that it is limited only by your imagination!

Finally your feature wall comes alive as a standalone centre piece that combines extraordinary beauty with traditional function. Delicately finished with classical hardware, the elegant beauty and style this door offers you is the highest in quality sophistication!
ON TIME AND ON BUDGET!
YES, WE CAN DO YOUR CUSTOM DESIGNS!
GLASS BLOCK DOORS - SLIDING DOORS - COMBINATION OF DOOR/WINDOW PANEL SET
All made in-house by us! You buy direct from the manufacturer!
Door Sizes Available
Hinged Doors

Widths Available
(External Widths in MM)

Heights Available
(External Heights in MM)

French Doors

Widths Available
(External Widths in MM)

Heights Available
(External Heights in MM)
Innovative creativity combining patterns and/or colours ensure increased privacy and strength offered by Hollow Glass Blocks over the single pane alternatives.
Request a Glass Block Door Quote